Virtual Connectivity During COVID-19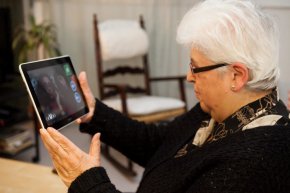 Dear Families and Friends,
We understand in this difficult situation, we have asked that no visitors are allowed into Extendicare Oakview Place due to COVID-19. Because of this, there is reduced communication and connection with your loved ones. We highly encourage all family members and friends to keep connectivity through email, phone, or other means of communication if your loved one has a personal electronic device.
If you wish to virtually connect with your family member or friend living at Oakview and he/she does not possess a personal electronic device, we offer virtual connectivity through Video Chat by means of Facebook Messenger Video Call, Skype or Facetime.
In order for a successful communication to go through, both parties (family member/friend and residents at Oakview Place) must have the same software platform. For Facebook Messenger to work, family members must possess a Facebook Account and have a Facebook Messenger App installed on their electronic device.
Video call hours are between 10:00am – 4:00pm. Call time is only limited to 10 minutes per resident due to high call volumes. Please contact Khristin Wagner, Leisure and Lifestyle Coordinator to set up a time for communication.
Alternatively, if a resident does not have access to a telephone in their room, staff can utilize the telephones in house for calls. Please follow the call hours schedule (indicated below for each neighborhood) in order for staff to assist your loved ones as best as possible, remembering that the staff are also conducting Recreation programming to the residents.
Call Hours:
1st Floor: 2:00 pm – 4:00 pm
2nd Floor: 10:00 am – 12:00 pm
3rd Floor: 12:00 pm – 2:00 pm
We are also looking at other ways to offer communication options to you. We will continue to keep you updated as we develop these options.
If you have any further questions or would like to schedule a time to chat with your loved one, please contact Khristin Wagner, Leisure and Lifestyle Coordinator at (204) 888-3005 extension 254 or kwagner@extendicare.com