Meet our team at Extendicare Oakview Place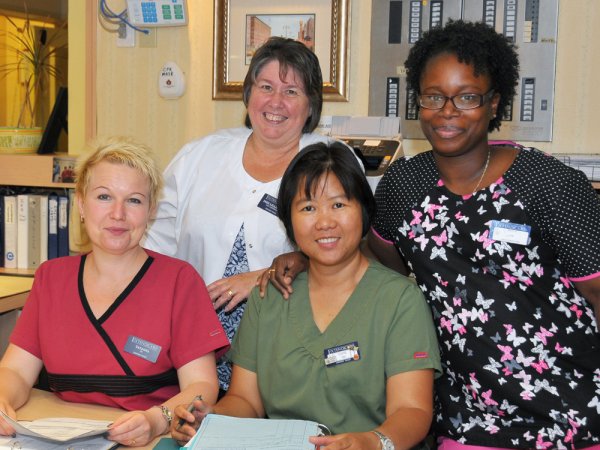 There are many people you will meet who make up our team of qualified, experienced and dedicated health care professionals. We hire the best possible care and service providers – dedicated and caring individuals who promote quality of care and quality of life every day and for every person who lives at our home.
Paul Thannuvelil, Administrator, is responsible for the overall management and operations of our home. This individual can assist in answering any and all questions, especially those related to policies, procedures and the culture of our home.
Steve Todd, Director of Care (DOC), is responsible for supervising the nursing team and can answer any resident care questions including those related to nursing practice, personal care and care plans and routines.
Dr. Karen Moran de Muller, Medical Director, is the lead physician responsible for the coordination of clinical services in the home. This individual can assist in answering questions related to medical care, convalescent care, chronic disease management, medications, end of life care and more.
Darien Palalsy, Infection Prevention and Control (IPAC) Lead, oversees the home's Infection Prevention and Control Program by leading the planning, development, implementation, coordination and evaluation of the home's program,supported by regional Extendicare IPAC specialists and Extendicare's IPAC community of practice which set evidence-based best practices in Infection Control.
Nivian Alexander, Assistant Director of Care, supports the Director of Care in mentoring and supervising the nursing team. If you have questions regarding the care your loved one receives, questions about our infection prevention and control program or any other nursing matter, please contact Nivian.
Bobbi Gendreau, Office Coordinator, is responsible for resident accounts including monthly billing and trust accounts and mentors the office team in supporting the home with various clerical and financial matters.
Doreen Fear, General Services Supervisor, is responsible for mentoring both housekeeping and laundry teams in our home to ensure the care of your loved ones belongings and living environment is clean and safe.
Telmo Gomez, Food Services Supervisor, is responsible for meal quality, including menu planning and meal preparation.
Khristin Wagner, Recreation Services Supervisor, coordinates all events and recreational events within the home. This includes outings, special events, room booking for families and residents. Khristin supports and mentors her creative and compassionate team. Khristin oversees the volunteer program and Adult Day Program.